Overhead protection for John W. Hallahan Catholic Girls High School
In honor of 40 years of SNL (Saturday Night Live) I thought I'd post some pics of our emergency services overhead protection job at Hallahan Catholic Girl's School.
Superior Scaffold was called in to provide overhead protection so crews could repair pieces of the façade that were falling off.  If you look carefully, on this photo, you can see some of the damaged masonry work covered by blue plastic.
Superior quickly erected this canopy to protect students and pedestrians coming in and around the school.  Our emergency services line is open 24 hours a day and we specialize in getting crews out to a job site and solutions in place within 8 – 12 hours.  (Tops in the industry).
Masonry crews needed to get in there and repoint and repair some of the brick and mortar before there was more damage.  It's quite normal on buildings this old to need an occasional touch up over time.  It was built in 1912.
Superior provided this overhead canopy using scaffold frames.  It was 65' long by 8' high X 8' wide and incorporated aluminum beams, decking, screw jacks, cross braces, U heads, and debris panels.  It also included our fabulous yellow warning banners at each end.
Here you can see the intricate detail of the school logo that was etched into stone for this masthead.
I didn't notice, but I guess all around the top of the build, carved in stone, are the faces of famous Catholic women.
And now you are finally asking what does this post have to do with the 40th anniversary special of SNL?  Well, when I saw Molly Shannon dressed as Sister Mary Catherine Gallagher it made me think of this job.

With Whitney Houston
Superior Scaffold has a fastest response times in the business.  Just take a look at our website to see some examples.  Call 215 743-2200 today to see what scaffold solutions we can present to you.
Some history on the school:
John W. Hallahan Catholic Girls High School, located at 311 N. Nineteenth Street and originally called Girls' Catholic High School, was finished in June 1912 and opened on September 18, 1912, to 326 students. Financed by Mary E. Hallahan McMichan (1861-1925), it was renamed for her brother John W. Hallahan in 1925 in accordance with her will. Cut into the stone at the top of the building are etchings of famous women who were dedicated to Catholic life and education.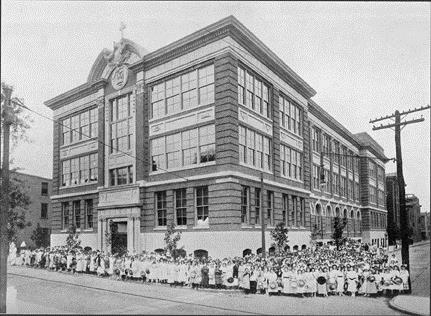 From the Encyclopedia of Greater Philadelphia
#scaffolding#scaffold#rental#rent#superiorscaffold#restoration#inspection
#contstruction#facade#masonry#canopy#protection#howto#erection#install
#emergencyservices#masonry#suspendedscaffold#mastclimber#workplatform
#canopy#philly#philadelphia#pa#electrical#2157432200#pa#de#nj#ny#md
#rents#sales#design#erection#dismantle#deliver#swingstaging#swings#stages
#shoring#USA#nationwide#national#top10